The Kiwiplay Difference
Why choose Kiwiplay?
Your child's safety is always our top priority. Unique to Kiwiplay are features such as:
Safety coated swing chains
Commerical grade ductiles
Wide and flat ladder steps
Self-reinforced slides
6x4" swing beams
These features have made our sets some of the safest available anywhere. We continue to raise the bar within the industry through patented safety equipment like our One-Piece A-frame bracket, which ensures an extremely stable set.
Kiwiplay's Quality Playground Sets
The wooden swing and slide playground sets we sell, have been designed by a team of talented engineers and master builders to bring you not only one of the safest kids playground equipment for home on the market, but also one with loads of activities that will keep the kids going back for more. They will be able to grow with the playground set and experience new aspects of it as they develop new skills - from toddler to tween.
Great Quality Materials
The timber has been carefully chosen to avoid nasty chemical exposure to your children. It is from the Spruce family and, like cedar, is naturally resistant to rot, decay and insect damage. The Swing and Slide sets come with a 10 year warranty on the timber workmanship so you know they're going to last.
The timber posts and swingbeam size are important for the strength of the set. These are important elements in your selection. The oversized bolts and lag screws are electrogalvinised to prevent against corrosion and the zinc coated deck screws are commercial grade.
Coach bolts are used to attach the iron ductile swing holders to the swingbeam and go through the beam completely to ensure the strongest hold whilst your children are swinging.
Commercial Grade Hardware & Recessed Bolts
Our hardware consists of oversize bolts & heavy lag screws that are electro-galvanized to prevent corrosion. We bolt our iron swing hangers completely through our swing beams to locking carriage bolts. Decks, wall slats and wood roofs all use commercial grade zinc-coated deck screws. Nails, which can work loose, are never used in the construction of our swing sets. We even recess bolts into wood and cap them in order to prevent injuries.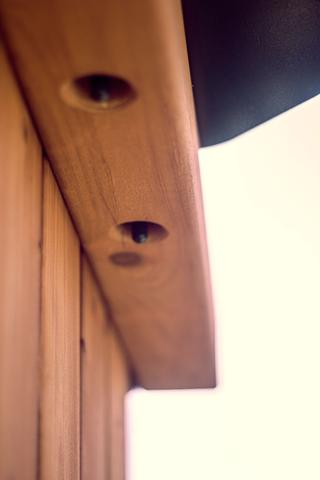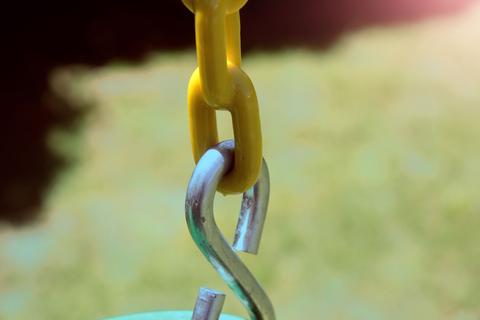 Safety Coated Swing Chains
Our swing chains have a soft plastic coating that is durable, flexible and remains cool even in direct sunlight. Moreover, it does not pinch small fingers and will not pull hair. It provides smooth grippy comfort, which instills confidence in your little ones.
Pre Sanded & Pre-Drilled Wood
We discovered early on that we could sand the lumber at our factory, twice,for extra piece of mind. Our wood comes out smooth, beautiful and ready to use. We even pre-drill the main beams to save you time and eliminate possible mistakes during installation.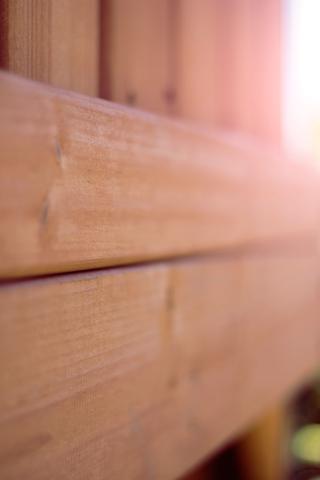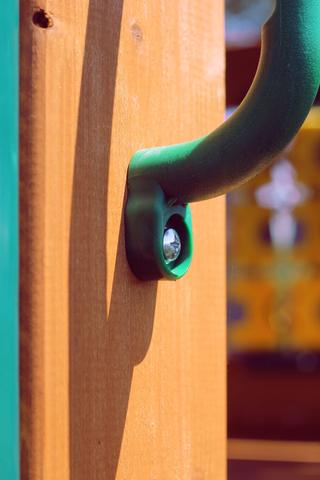 Strategically Placed Safety Handles
Safety handles are placed in positions where extra safety may be needed through the transition onto the play deck.
GreenGuard
The Stain & Wood on all our swing sets are safe for children, plants and pets. All cedar wood comes out of the factory with a water based stain.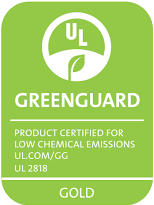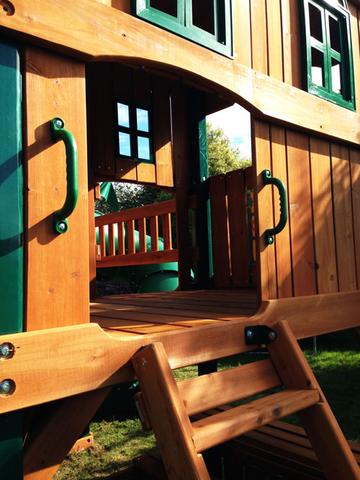 Safety Steps
All of our Safe Entry Ladders have wide, flat steps to ensure safety and confidence. Wide Steps are also a feature on all of our rope ladders.
Industry Best Slides
All Kiwiplay slides have thick side rails, wide and solid bases and are self-reinforced. We also infuse our slide with Safe UV protection.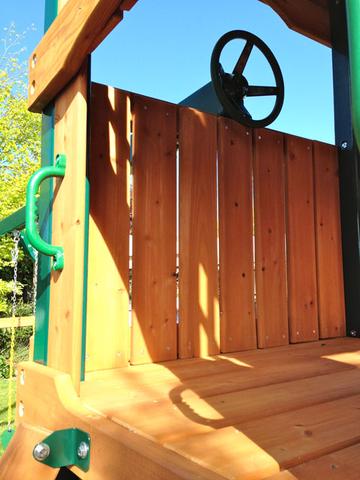 Interior Mounted Deck Sides
All panel slats are mounted on the inside of the deck, preventing them from being pushed out during active play.